Bands
Bands currently scheduled to appear, in alphabetical order:
Carole Hampton
Known as Carole with an "E" which her fans note as standing for Excellence and Elegance, Hampton grew up in a talented Irish family of professional singers, musicians, dancers and troupers in the English Music Hall circuit.
At the age of 14 years old she was singing with Dixieland bands in local pubs and passing around the hat. By the time she turned 20, she had starred with Roger Moore on British TV in "The Saint."
Her close friend pianist Dudley Moore suggested she audition for "The Establishment," which prompted a move to New York performing with Jazz pianist Teddy Wilson. Appearing at The Strollers Club she performed with Jazz greats like Miles Davis, Gerry Mulligan and Jonah Jones to name a few.
Releasing her CD Takes Two in 2002, featuring several song gems from composer Ruth Gibson and showcasing her wide Jazz repertoire, Ms. Hampton is proud to announce the debut of her latest CD Remembering Andy dedicated to local legend and Jazz pianist Andy Fraga.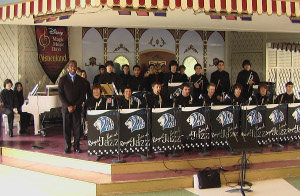 Cathedral City High Jazz Band
Known as the "Royal Jazz Band", the Cathedral City High School Jazz Band is a performance-oriented ensemble specifically designed for serious, dedicated, and mature musicians by audition only. The primary goal and function of the Jazz Band is to introduce students to a wide array of jazz literature at the highest level; while also giving them knowledge to delve further into music at Cathedral City High School and beyond. The Jazz Band is often contracted to perform at local community events, corporate functions, weddings, dinner dances, and has often served as the highlight performer at resort events and functions across Southern California. The jazz band performs over 20 "gigs" per year. The Jazz Band also performs in concert twice yearly at Cathedral City High School, and at jazz festivals across Southern California. The CCHS Jazz Band has garnered a reputation as being one of the finest jazz bands in the Coachella Valley.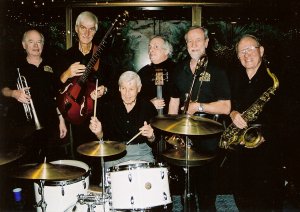 Chicago Six
This popular band from Southern California first performed together at the "Belly Up Tavern" in Solano Beach, CA in 1981. Since then they have appeared throughout the USA and Canada plus Central America and the British Isles. They play a swinging mainstream Jazz with a touch of the Big Band sound. Members include leader and bassist Bob Finch, Dick Hamilton on trumpet, flute and alto sax, Lloyd Herbert on trombone, pianist Si Perkoff, Bob McKewen on tenor sax and clarinet with John Hall on the drums.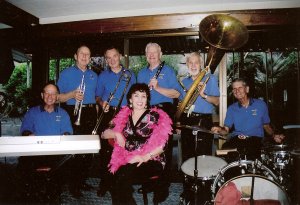 Coyote Hills Jazz Band
The Coyote Hills Jazz Band is composed of seven experienced and versatile musicians, many of whom are former band leaders. They perform the music they enjoy most – traditional Dixieland jazz, blues and more from the early 1900s. The band features a lovely female vocalist who thrills audiences with the songs of Bessie Smith and Sophie Tucker. Their active following has grown steadily and dancers, listeners, and other musicians love their high-spirited sound and contagious good time.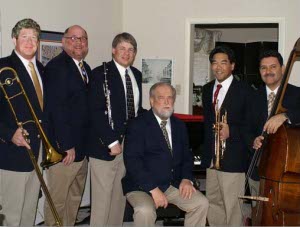 Fulton Street Jazz Band
The Fulton Street Jazz Band has been featured at jazz festivals and on jazz cruises for over 30 years. The popular and fun loving group combines a front line of outstanding ensemble and solo players with a rhythm section that builds a strong foundation for the band's powerful and unique sound. The band's extensive and varied repertoire makes each performance an exciting and strong jazz statement. Fulton Street is a delight for listeners and dancers alike.
Gino Antonacci Quintet
Vibraphonist Geno Antonacci and Clarinetist Mikole Kaar have set out to recreate the classic sound of the Benny Goodman Quartet with Lionel Hampton and they have certainly succeeded. It was the late 50's that pianist Antonacci first heard recordings of the George Shearing Quintet and fell in love with the sound of the vibraphone. He started taking lessons from Peter Appleyard who has played with greats like Benny Goodman, Frank Sinatra and Shearing.
Woodwind man Kaar, a former student of band leader Chet Jaeger, has performed extensively in the Los Angeles and San Diego area and performs regularly with vocalist Carrie Laandsgard.
Pianist Johnny Morris is an accomplished arranger originally from the East Coast and also handles the musical director's chair for many local productions. Bassist Jeff Stover is the Valley's first call bass player and appears regularly at Sullivan's Steak House in Palm Desert. A solid and versatile drummer, Sal Frisuara is known as the "Paint Man" because of the amazing shades, colors and textures he coaxes from his drum set.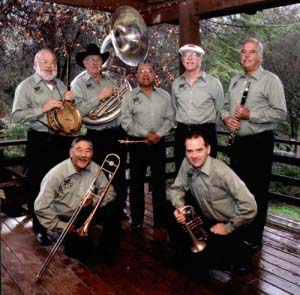 High Sierra Jazz Band
The High Sierra Jazz Band was formed in 1976 in a small town, Three Rivers, located in Central California at the entrance to the Sequoia National Park. The band has seen only a few changes in its long history. Of the original six members, four: Charlie Castro, Bruce and Stan Huddleston and Earl McKee, are still active members.
From the beginning the band has enjoyed enormous popularity; it enjoys the support of a large group of jazz fans. An American Rag readers poll recently pronounced the High Sierra Jazz Band the second most popular traditional jazz band ever, just behind the Turk Murphy band, ahead of the Duke Ellington Orchestra.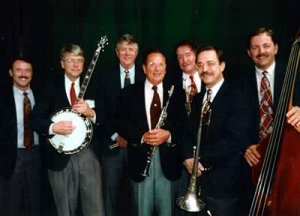 Jim Beatty Jazz Band
Born June 9th, 1934 in Jamestown, New York, James William Beatty was given a clarinet for his eighth birthday and has been playing ever since! He has traveled the globe to play his music with such energy, enthusiasm and purity of sound that he was recently acclaimed "the eminent jazz soloist of the 21st century" by critics here and abroad. A label well deserved!
Jim Beatty Jazz Band is a "must see, must hear" for any music and dance lover! Labeled " The Eminent Clarinet Soloist of the 20th-21st Century" by Jan Scobey's "HOT JAZZ" publication, Jim leads his band of outstanding musicians to heights seldom reached by other jazz bands in the every day life of musical entertainment.
Marshall Hawkins Quartet
As the Director of Jazz Studies at Idyllwild Arts Academy, Marshall Hawkins draws on his real life experience as a performing musician working with such Jazz luminaries as Miles Davis, Eddie Harris, Freddie Hubbard, Eddie Jefferson, Richie Cole, Poncho Sanchez, Pharaoh Sanders and the woman he says expounded his deep love for the genre, vocalist/pianist Shirley Horn.
A founding member of the "Jazz In the Pines" Festival in Idyllwild, Hawkins fifteen year involvement has seen the festival grow from a grass roots scholarship fund raiser for the school, to the status of being one of the premier Jazz festivals in the country.
Even with his many accolades as an educator, Hawkins is still a vibrant force in the local Jazz scene leading his own orchestra The Seahawk Jazz Orchestra and can often be seen performing and recording with many of his contemporaries in Idyllwild, Palm Springs and Los Angeles.
Performing along with Hawkins will be Harold Mason on drums, Yarek Urant on piano and vocalist/saxophonist Pat Rizzo.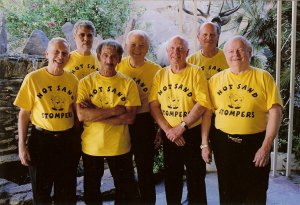 Jim Kirwan's Hot Sand Stompers
Created specifically for the Dixieland Jazz Society of the Desert, Jim Kirwan's Hot Sand Stompers have decades of experience playing with the Woody Herman Orchestras and Big Tiny Little.
Band members include Randy Johnson on piano, Steve Crowell on guitar, bassist Bill Irmi, Kent McGarrity on trombone, Joe Nutter on all woodwinds and Kirwan on drums. The magical sound of Jim Kirwan's Hot Sand Stompers captures their audience with the mixed sounds of Swing, Big Band, Rock, Latin, and Country. Jim Kirwan has loved music since he was a small boy. At the age of 15, Jim played his first professional gig, and at the age of 16-years-old, he joined the Musician's Union and played regularly as a paid musician. Jim has had a musical career playing drums and singing has also been successful in Television and Radio and has appeared in several movies as a musician. Jim was fortunate enough to play the part of one of the back-up singers in the Patsy Cline biography, Sweet Dreams. In 1962, he decided to move to Los Angeles and began working as a music director for KNX radio and began working casual gigs in L.A. and in 1994, Jim moved to the Coachella Valley where he continues to pursue his love of music, a love that has lasted for more than sixty years.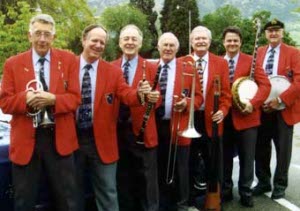 Night Blooming Jazzmen
The Night Blooming Jazzmen is a traditional, or dixieland band, formed in October 1975. Since then, they have played thousands of concerts, church services, funerals, house parties, grand openings, jazz clubs, wedding receptions, dances, etc. AND several dozen cruises and land trips to China, Japan, Australia, New Zealand, Alaska, Hawaii, the Caribbean, the Panama Canal, the Amazon, the Mediterranean, and many other parts of Europe.
Palm Springs High Jazz Band
Palm Springs High School is well known in Southern-California for its Marching, Jazz, and Symphonic Bands, which play many local performances each year. The band has also performed internationally in countries such as Italy, England, France, Denmark, Sweden, Australia, New Zealand, and most recently the Beijing Olympic Music Festival in China.
Pat Rizzo Trio
Saxophonist, vocalist, composer, arranger and producer Pat Rizzo has had a varied career spanning over more than three decades performing and recording with such diverse artists as Frank Sinatra, Tony Bennett, the Tito Puente Orchestra, Conte Condoli, Chiz Harris, Sly and the Family Stone, War and his own big band, the Pat Rizzo Orchestra.
Growing up just blocks from Tony Bennett's home in Astoria, New York, Rizzo and his childhood buddy, the late Andy Fraga started working gigs together by the age of 12 years old. After performing with Staten Island recording group The Cufflinks, Rizzo moved to Palm Springs, CA and began his career recording and touring with Sly Stone and War during the '70s.
Along with his numerous album credits as an instrumentalist, he's recorded several CDs on his own label, Riz Records. The first was released in 1993, entitled Riz and was co-produced by Fraga. Gold for Silver released in 1998 featured Conte Condoli and Chiz Harris.
Pat Tuzzolino Band
Patrick Tuzzolino is a critically acclaimed vocalist, composer, pianist, guitarist and jazz producer. Moat recently Tuzzolino played guitar and sang background vocals on Keely Smith's Swing, Swing, Swing CD and is a featured vocalist on Ray Anthony's big band CD The Swing Club.
He has performed with such Jazz legends as Jon Hendrix, Joe Sample, Herbie Hancock, Carl Fontana, Sam Butera, Branford Marsalis, the Count Basie Alumni Band, Sarah Vaughn and Frankie Capp's Juggernaut Big Band. At the 1997 Playboy Jazz Festival he was a featured performer with the legendary Sam Most and trumpet player Carl Saunders.
Tuzzolino has composed and performed many of his songs for film and television for HBO, ABC Films, MCA, UPN and episodes of King of Queens from the 2004 to 2005 season. A member of S.A.G. he has acted in supporting roles for The Fresh Prince of Bel-Air, Blood Money, Pistol Blues and Sleepless.
Performing along with "Tuzz" will be Pat Rizzo on sax, Marshall Hawkins on bass, drummer Harold Mason and Yarek Yurant on piano.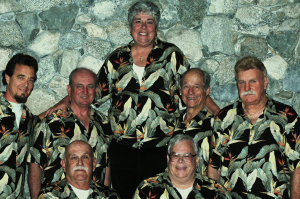 Prime Time Jazz Band
This band is hot!! And getting hotter. Great arrangements, enhanced by FREE playing from some of the best in the business.
Leader Jerry MacKenzie goes smoothly from clarinet, sax and banjo and Renard Perry, a veteran of the Kid Ory Jazz Band, always plays a fine trumpet. Jan and Jerry led Custer's Last Band for 12 years until they moved south where Primetime was born in 1996. Renard also plays with the fabulous Moonlight Swing Orchestra, a recreation of the Glen Miller Band of the war years. Bert Turetzky on string bass, Gene Hartwell on piano, and Tyler Buckley on drums, have always had music as their sole source of income, a difficult feat these days. Bert is professor emeritus of music from UC San Diego, for 35 years. He has played in symphony orchestras all over Europe, Australia and the United States and also plays in a great Klezmer band. Gene Hartwell played piano for the Bill Green Dance Band for many years is a wonderful accompanist and solo pianist. Tyler, the youngest band member has played in dozens of great rock groups, and the well known group Tobacco Road. Tyler is a terrific drummer and a well rounded player, who also plays with Jan & Jerry in a 17 piece big band. The addition of Pat ONeal on trombone, formally of Stumptown Jazz Band, and leader of bands on the Columbia River Boats, will certainly be a great energizer.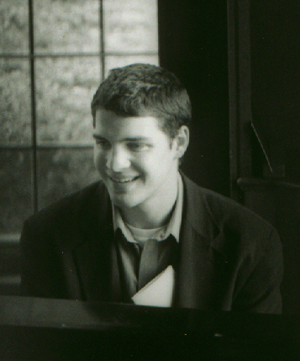 Reece Marshburn Quartet
Performing regularly with the Jim Beatty Jazz Band throughout the country, pianist Reece Marshburn will also be leading his own group taking us on a journey exploring the different styles and interpretations of some of the finest piano players of the late '20s and early '30s, when Stride was King.
After years of classical studies, Reece's first public performances came during the swing revival movement of the late '90s. The Hot Set Swing Band, a seven-piece jump band, provided music for Olympia, Washington's swing dance scene. It was here that Reece started to learn his way around a lead sheet and gained appreciation for the art of public performance.
As a fixture on the Portland music scene, Marshburn can be seen performing Tuesday and Saturday nights at Tony Starlight's Supper Club and Lounge and with his new CD Introducing Reece Marshburn hot of the presses, his debut at the festival will introduce this young and gifted pianist to the attendees of the Desert Swing'n Dixie Festival.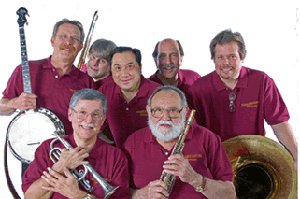 South Burgundy Street Jazz Band
The South Burgundy Street Jazz Band, (SBSJB), was started by Mike Olson in 2006. He got the top performers in Southern California to play with him on the premise they are going to play the old Firehouse Five plus Two style. Boy! Do they do that, with their siren and all.
A very high energy band with very competent players that understand the music and the way it should be approached with total flawless execution. The quality of their music is of the highest caliber and their arrangements are exciting and contagious. They get standing ovations and encores at every festival and jazz club they play.
The South Burgundy Street Jazz Band is not simply a copy of that which once was and remained behind. Their musicians bring to the present a culture that will form part of us for ever. And it is brought with enthusiasm, sensitivity, the colouring in staves of paper which are really much more than this: these are the paths along which our deepest & most beautiful emotions can travel. This band is a must see.
Titanic Jazz Band
Dan Comins and crew are here to show us a rollicking good time. As former members of the South Frisco Jazz Band they know what traditional Jazz is all about. Along with leader Comins on cornet the band features Mike Baird on clarinet and sax, Vince Saunders on banjo, pianist Robbie Rhodes, Keith Elliott on trombone, Ray Cadd on tuba and drummer Chris Tyle.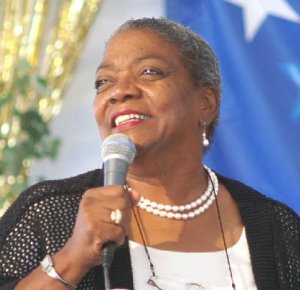 Yve Evans and Company
Evans' band (she calls it her Company) is comprised of some of the industry's most accomplished musicians. Each performance shows a dedication to the tradition and understanding of Jazz and it's timeless repertoire. The goal is sharing the sheer joy and freedom that her music brings, or at the very least taking the audience on a musical roller coaster ride with Yve at the helm.